First international workshop
19-21 June 2023
LASER Center
Villebrumier (Toulouse region), France
(Cliquer ici pour la version française de cette page)
For about 50 years starting around 1880, Nancy and the Lorraine region were the scene of an extraordinary revolution in the decorative arts, particularly glass, which left incredible masterpieces from such brilliant artists as Émile Gallé (the genius who started it all), the Daum family, Désiré Christian, Amalric Walter, Camille Gauthier, Louis Majorelle and many others, including in other regions of France (Schneider, Legras, the Müller brothers…).
The Villebrumier workshop, to be held from 19 to 21 June 2023 in a magnificent Belle-Époque château near Montauban and Toulouse in the Southwest of France, is a unique opportunity for both experts and enlightened amateurs to learn new insights into this brilliant artistic movement and discuss their passion with fellow enthusiasts.
Workshop organization
The Workshop will take place from Monday, june 19, to Wednesday, June 21 at 2 PM. Participants are also invited to a welcome party on Sunday, June 18th, and the concert that will follow (program built around César Franck, with a fully restored Pleyel piano from 1902) .
L'inscription est possible pour l'ensemble de l'atelier ou à la journée. Elle inclut les déjeuners et dîners, pris sur place au Château de Montauban, et les pauses, ainsi que le concert du dimanche pour l'inscription complète, qui inclut également l'excursion du mardi après-midi.
To limit the quality of participant interactions, the number of participant is limited to 40. Registrations (see below) are accepted first-come, first-served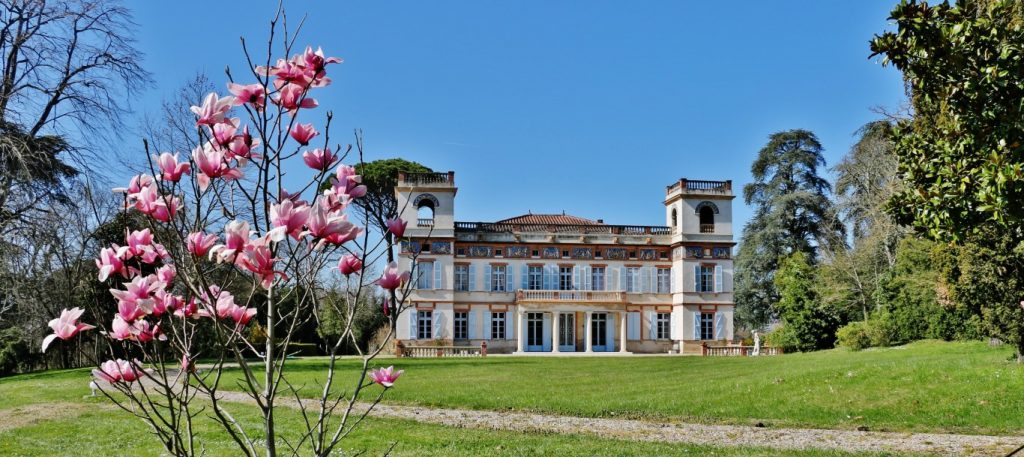 Program
Lunches (Monday to Wednesday) and dinners (Monday and Tuesday) are taken on site. Ample time has been left for discussions with speakers and other participants.
Sunday, 18 June
From 17 (5 PM) on: Welcome party and concert (Music from the Belle Époque) — César Franck (Cello version of the violin sonata), Ravel, Bizet, Schumann. Dimitri Maslennikov (Cello), Angela Fandeyeva (piano, on a fully restored1902 Pleyel grand piano). Concert starts at 6 PM in the Grand Salon of the Château de Villebrumier (not usually open to the public).
Monday, 19 June
9 AM: Opening and introduction: The School of Nancy, the people behind the art, by Prof. Bertrand Meyer , with discussion
10 Coffee break
10:30 – Dr. François Le Tacon, Questions about intercalaire (inter-layer) decoration in the glass productions of the School of Nancy, with discussion.
11:30 – Prof. Pierre Lescanne, The role of women in the history of Daum, with discussion.
12:30 – Lunch
14:15 – Dr. Dedo von Kerssenbrock-Krosigk, Collecting Gallé at the Glasmuseum Hentrich in Düsseldorf – Research and current observations, with discussion.
15 :15 – Coffee break
15:45 – Prof. Samuel Provost, Glasswork from Établissements Gallé from1904 to 1936, with discussion.
16:45 Panel with the day's speakers: Gallé and Daum, two interleaved and contrasted stories.
19:15 – Dinner
Tuesday, 20 June
9 AM Tiny Esveld, Fakes and how to spot them
10 – Paul de Colonges: Evolution of the French Art Glass market
10 :30 – Coffee break
11:30 – Panel on The French Art Glass market and the problem of fakes, with the day's speakers
12:30 – Lunch
14:15 – Donata Patrussi, Charles Schneider, genius of glassmaking, with discussion.
15:15 – Excursion
19:15 – Dîner
Wednesday, 21 June
9 – Professor Christian G'Sell, The "School of Nancy" association, bylaws and history, with discussion
10 Coffee break
10:30 – Justine Posalski, The works of Camille Gauthier , with discussion
11:30 – Closing panel with all speakers: The evolution of glassmaking styles
12:30 – Closing and lunch
14:15 – End of event
Speakers
Dr. François Le Tacon, Director of Research at INRA, Gallé expert, author of numerous books and articles
Prof. Samuel Provost, Professor at the University of Nancy, expert in Établissements Gallé)
Dr. Dedo von Kerssenbrock-Krosick, Art historian, expert on the history of glass, head of the Glasmuseum Hentrich (Düsseldorf)
Prof. Pierre Lescanne, Professor emeritus at the École Nationale Supérieure de Lyon, descendant of Jean and Auguste Daum
Justine Posalski , expert in Art Déco and Daum
Tiny Esveld. author of several books on Art Nouveau and Art Déco and on fakes.
Donata Patrussi, Schneider/Verre Français/Charder expert and author)
Prof. Bertrand Meyer, Constructor Institute, Schaffhausen, Switzerland
Paul de Colonges, auctioneer and expert, Toulouse.
Dr. Roselyne Bouvier, Louis Majorelle expert, author of several books.
Prof. Christian G'Sell, expert on the School of Nancy, emeritus professor at the University of Nancy)s.
Talks will be held in French or English, with simultaneous translation through subtitles.
The program will leave ample space for discussions between participants and speakers. A large set of books on the topics of the workshop will be available for perusal. Lunches and dinners will be taken on site and provide further opportunities for discussions.
Venue
The workshop will be held in Villebrumier near Toulouse in Southwest France, a conference center devoted to meetings on new technologies. Villebrumier is easily reachable from Toulouse International Airport (40 km) or Montauban train station (15 km, 4 hours from Paris via high-speed trains).
The program will include social events such as a concert and an excursion, giving the participants the opportunity to discover a beautiful region — including, just across the Tarn river from Villebrumier, one of the oldest wine-growing areas of Europe: Fronton, with its unique Négrette grapes.
Participants are responsible for their accommodation. Montauban, other neighboring towns (Villemur, Fronton) and the region provide many lodging opportunities, including hotels and B&Bs. Participants are advised to reserve early as facilities sell out quickly for the June period. On Monday to Wednesday we will organize a shuttle service from the center of Montauban.